The Dreamworld of Robert Bissell



Artist Robert Bissell's fascinating work transports us to a peaceable kingdom where animals contemplate the world through calm, philosophical eyes, inviting us to enter a reflective landscape where bears levitate above lakes, surrounded by clouds of lavender butterflies.

Bissell grew up in Somerset, England on a farm, surrounded by the pastoral beauty of the English countryside. Animals were always a source of inspiration and delight. As a boy he would challenge himself to see how close he could get to the herds of wild red deer without alerting them. "My closest was about twenty feet," says the artist, "those guys are just too aware."
Photography was his first artistic pursuit. He studied graphic design and obtained a masters degree from the Royal College of Art in London. Bissell then moved to San Francisco and began a successful career in retail advertising. After fifteen years, he decided to devote all his time to painting.
Inspired by Celtic legend, Romantic-era landscapes and classical portraiture, the artist sought to define a style that would achieve his philosophical goals and also touch the viewer emotionally. He chose bears and rabbits for his subjects, as their more upright, human-like stance makes them easier to identify with. These particular animals also bring to mind the teddy bears and bunnies of youth, which softens the viewer and calls to mind a child-like way of viewing nature and ourselves.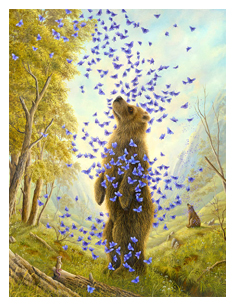 Classified as Imaginary Realism, the fascination of a Robert Bissell image lies in the beauty of the realistic rendering, combined with the mystery of the surreal juxtapositionings.
What is the bear thinking as it swims among the spawning salmon? Why are the rabbits stranded on a small island in the middle of the ocean? Only you can find the answers to the questions posed by a Bissell painting—and the answer will be yours alone.




Sign up for e-mail updates on new art, shows, and events for this artist.

View New Releases, Limited Editions, Rare Pieces

---
New Releases
Click on an image to see pricing, size and description of art.
---
Limited Editions
Click on an image to see pricing, size and description of art.
---
Rare Pieces
Click on an image to see pricing, size and description of art.

AM
$ Call

Aviators
$ Call

Dance, The
$ Call

Dilemma, The
$ Call

Dream, The
$ Call

Embrace II, The
$ Call

Embrace, The
$ Call

Emergence, The
$ Call

Exchange, The
$ Call

Guides, The
$ Call

Guru, The
$ Call

Invaders
$ Call

Kiss, The
$ Call

Lepus
$ Call

Lookouts, The
$ Call

Metamorphosis
$ Call

Pastors at the Gate
$ Call

Perfect World
$ Call

Rangers (Small Works)
$ Call

Rapture, the
$ Call

Rhapsody
$ Call

Runaround, The
$ Call

The Dancers
$ Call

Ursa Minor
$ Call